<![if !IE]> <![endif]>
Oskar Lehmann GmbH & Co. KG
Alte Chaussee 59-70
32825 Blomberg
Germany
+49 5236 8980

+49 5236 89844

List of Products
This exhibitor shows the following products and commodity groups:

Company & products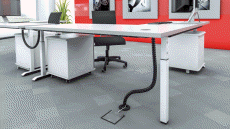 Cable Guide System KABA 35
The new small-size product from OL!


With its slender diameter of 35 mm, small bending radius, and slim cross-section, this innovative cable guide is ideally suited for use with the increasingly smaller quantities of cables being used in modern office environments. It is designed for small numbers of cables.

The cable guide is manufactured from modern, partially bio-based materials, and therefore takes the current plastics strategy of the EU into account.

The KABA 35 has two cable compartments. The cables can be inserted from two sides, which makes adding and removing cables in existing cable guides easier.

The KABA 35 comes as a set and includes the desk mount and base plate as standard accessories. The cable chain can consist of 38 or 62 chain links with a total length of approx. 760 mm or 1.240 mm.

The cable chain utilizes an alternative connection concept with two hinges on the outer wall. It ensures that all of the space inside the cable chain can be used for installing cables.

We would be happy to receive your individual requirements in terms of the lengths of the cable chains. You can order our KABA 35 in the colors black, silver, and in its natural color. Other special configurations according to your specifications are also possible. Just contact us! We would be happy to provide you with advice.