<![if !IE]> <![endif]>
Camar S.p.A.
Via Giacomo Leopardi 8
22060 FIGINO SERENZA (CO)
Italy
+39 03172811

+39 03172812

List of Products
This exhibitor shows the following products and commodity groups:

Company & products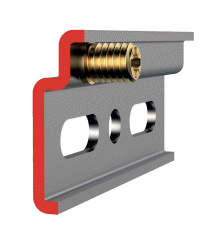 ANTI-DISLODGEMENT SAFETY
The new patented solution by Camar grants a solid and safe anchorage of the cabinet to the wall, thanks to the interaction of a new shape of wall rails and plates with a special screw in optimum position at the center of the hanging hook, and avoids any accidental dislodgement. A winning combination.
An innovating system, created specifically to adhere to the strictest safety standard without affecting the outside appearance. When brackets are visible, the new anti-dislodgement system does not require any further drilling inside the cabinet, as the access to the screw which activates the system is from the cutting in the back panel. Even when brackets are concealed, the aesthetics remain unaffected, as access to the screws for adjusting height and depth is situated in a single hole in the back panel. This allows use of the second hole for activating the anti-dislodgement system.
A successful solution compatible with both visible and concealed hanging brackets.