<![if !IE]> <![endif]>
ambigence GmbH & Co. KG
Goebenstr. 3-7
32052 Herford
Germany
+49 5221 2754164

+49 5221 2754163

List of Products
This exhibitor shows the following products and commodity groups:

Company & products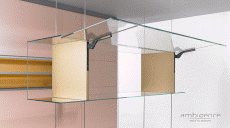 The PANEL is the new fitting
"The PANEL is the new fitting" stands for the revolutionary approach of the ambigence GmbH & Co. KG, to see furniture side and function as an inseparable unit.
The result is the perfect fusion of design and technology - the functionalized furniture element.

This new product category makes it possible to use the gained space for existing and future functions - a technological platform that is consistently oriented towards design.