<![if !IE]> <![endif]>
Adolf Würth GmbH & Co. KG
Reinhold-Würth-Str. 12-17
74653 Künzelsau
Germany
+49 7940 1500

+49 7940 151000

List of Products
This exhibitor shows the following products and commodity groups:

Company & products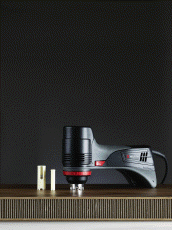 Würth COLDMELT® technology
Würth's COLDMELT® technology, which is based on the WoodWelding®
technology developed by Swiss WW WoodWelding GmbH, has recently
been introduced as a highly efficient alternative. The principle is to insert anchor-shaped plastic adapters (COLDMELT® anchors) into lightweight panels, which can then be used as strong attachment points for screws or directly as connecting fittings.
These newly created attachment points offer two main advantages: on the
one hand, they are a strong attachment point for fixing fittings, while, on the
other hand, the thin top layers of light sandwich materials are tightly joined,
so that the lightweight panel can be transformed into a full material panel at
individual points without losing its weight advantage. By means of ultrasonic energy, the COLDMELT® anchors are be positively connected to the substrate. As no adhesive is necessary, the connection reaches
its full load-bearing capacity after a few seconds. After that, the "melted"
anchor achieves high pull-out results and provides a strong attachment point
for chipboard screws, Euro screws, cam lock nut or cup connectors. Further advantages of this innovative procedure are not only the fast and easy processing, but also the high economic efficiency compared to existing, inadequate processing possibilities and the reproducible working results for
maximum process reliability.

And this is how it works:
The application of mechanical vibrations in the ultrasonic range of 20.5 kHz
causes the thermoplastic COLDMELT® anchors to be set in motion relative to
the wood-based material (e.g. lightweight panel). Due to the resulting friction
heat, the anchors melt and the liquid thermoplastic material flows into the
porous structure of the wood-based material, resulting in a strong connection.
Very little heat is generated in this process.